Out and About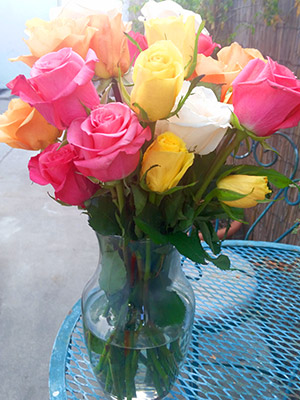 Sprint Training in the Park

As you read this, I'll be in the park working on my sprint training (not for the timid.) It is such a challenge to get those times to go down but I'm all in. So little by little, with continued corrections in technique, good sleep, stress getting managed and of course, plenty of protein, success is imminent.
To that last point about protein, I make sure to mix up some Amino Acid Complex to sip on throughout the workout as the recovery process begins immediately!
It's my birthday! (week.) The gorgeous flowers I received (at right) are proof –just in case you need it. There's a lot of talk about holiday weight gain in "the industry," and how to combat it. This is especially relevant for me since there are extra days of debauchery to contend with, having a December birthday.
It's even more important for me to incorporate little strategies into my life like eating a small (healthy) meal right before I go out to dinner to celebrate. Or, giving leftovers to the homeless so I don't waste "perfectly good" food after Thanksgiving but it also doesn't wind up on my hips either. I also make sure not to miss my restorative yoga class to keep stress levels down and thus cravings at bay.
Have you started your Christmas shopping yet? Me either. What did we ever do before the internet? It's going to save my life, that's for sure.
Make sure you read my blog next week to find out about some of the cool gift items I'll be sharing for the fitness/health/wellness minded people on your list.
But this week, I'm sharing some of the biggest mistakes I see in the gym –so that you won't make the same ones!