BLANXART CHOCOLATE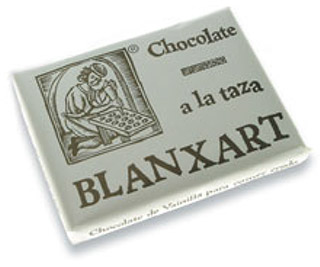 If chocolate weren't great enough, chocolate with a history is even better and the Spaniards, have quite a history with chocolate. To ring in the new year, I'm going back to the roots of chocolate, to the Spaniards and the more recent history of chocolate.
The "plain wrap" look of the bars, cocoa powder, and boxes have sort of a "salt of the earth" appeal and the chocolate inside is equally earthy and pure. I tried the Chocolate a la Taza bar which means, loosely translated (thank you high school Spanish), chocolate by the cup. It's what they call a "drinking" chocolate. With this bar, you just break off a piece, add hot milk, and there you have it….the best hot chocolate ever! Now all I need is for this L.A. "winter" to get just a cooler and tempt my hot chocolate cravings.
Here's a bit of Blanxart's history from their online catalog listed at
http://www.blanxart.com/pdf/Gourmet_13-14.pdf
BLANXART's history started in Barcelona in April 1954. Francesc Agrás, after a long training period in the best confectioners and chocolate shops of his time, decided to quit his job and establish his own company with the collaboration of three partners. They started an artisanal chocolate factory that was to be among the most prestigious companies in the industry.

Today BLANXART, remains faithful to its origins. Xavier Cordomí is BLANXART'S current chocolate master. He belongs to the 4th generation of a prestigious chocolate master's family of Barcelona.
Xavier is very passionate about his work and personally selects the raw materials and supervises the elaborate process. First comes quality, which is improved with time, then techniques –passed down from parents to children- that come from many hours of training, sleepless nights and many dreams and challenges.

For BLANXART chocolate is a precious material. A secret formula. An ancient product with almost magic properties. For BLANXART chocolate is a healthy pleasure.
Check them out. You will love the many choices and options from their "Memory," "Take-care," "Organic," and "Experience" collections. Sounds fun doesn't it?