CHOCOLATE CONSPIRACY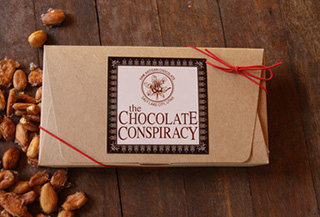 "Infused with four herbs that are cold-processed and grown in mineral rich soil from indigenous regions around the world. These herbs are known for their potential aphrodisiac qualities and overall health benefits."
Chocolate is getting very complicated. It's pretty clear that the popularity of demand for new and exciting types of chocolate has grown exponentially. While new creations are popping up across the board with exotic ingredients [i.e. bacon, sea salt, lavender, crickets, etc. (just making sure you're paying attention)], we are seeing more and more emphasis on chocolate for health where the focus has been on dark chocolate infused with all kinds of fascinating flavors.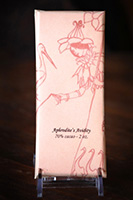 The example quoted above describes a bar called "Aphrodisiac Avidity" from a company called Chocolate Conspiracy out of Salt Lake City, UT. Chocolate Conspiracy features bars, chocolate milk mix, chocolate coconut sauce, raw and unfiltered honey, and of course, truffles and some additional "usual" fare. I'm becoming more and more of a purist. Not so much in terms of chocolate bar ingredients but in terms of bars vs. truffles, sauces, caramels, etc. Don't get me wrong, I wouldn't turn down such a gift but, I love hearing that "crunch" as I break off a piece of dark chocolate laced with some exotic spice or ingredient. I like their "Wild Spice Bar" and their "Blackberry Ginger" bar. Other flavors include: "Mint Chip Bar," "Maca Bar," and of course, the "Aphrodisiac Avidity" bar. Very cool.

Usually, the excitement of the chocolate itself is more than enough for me but, when I discovered Chocolate Conspiracy's owner's story, well, it was just icing on the cake as A.J. is a part of "my world." Check him out (from their website):
"AJ received his training to practice Holistic Health Counseling at the Institute for Integrative Nutrition, the world's largest nutrition school, which is the only nutrition school integrating all the different dietary theories— combining the knowledge of traditional philosophies with modern concepts like the USDA food pyramid, the glycemic index, the Zone diet and raw foods.

AJ also received certification as a Live-Foods Instructor, which he earned after completing a hands-on educational apprenticeship at the Tree of Life Rejuvenation Center. Known worldwide for its foundation in spirituality and living foods, the Tree of Life Rejuvenation center is a leading fasting & detoxification center, founded by Dr. Gabriel Cousens, M.D., diplomat of the American Board of Holistic Medicine.

At the Tree of Life, AJ developed an insatiable love of raw, vegan desserts. He had an especially strong attraction to raw cacao - the beginnings of all chocolate. This led him to develop his business, learning to manufacture chocolate with old traditions, in a new way."
If you live in Los Angeles, you can find Chocolate Conspiracy at Erewhon Natural Foods Market and the Hollywood Farmer's Market at Monsieur Marcel Gourmet Market & Restaurant Original Farmers Market and other locations. In Utah, you can find them at Cali's Natural Foods (1700 S. 389 W. Salt Lake City, UT), Earth Goods General Store (1249 S. 900 E. Salt Lake City, UT) and other locations. See their website for other locations around the country.