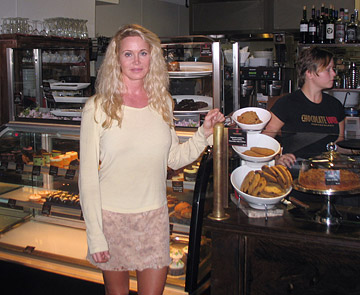 CHOCOPOLOGIE
Chocopologie is a European style Bistro and Chocolate cafe, featuring the creations of chocolatier Fritz Knipschildt, who makes artisan chocolates right there on the premises! Located in Norwalk, CT, the café features a wonderful menu, a beautiful boutique filled with chocolate creations and a viewing area where customers can watch these works of art being made. They also hold chocolate making classes (wish I lived in the area).
I am delighted to say that I've been to Chocopologie (the photo above is proof) and have watched the brand grow from a small gourmet chocolate line with a charming café and now to a national brand with Chocopologie chocolate bars being sold in Whole Foods and other specialty stores. I had lunch at the café several years ago and had a wonderful meal culminating in an incredible chocolate dessert, of course. The collections are not cheap but the packaging is adorable and the little shopping bags, even cuter. Collections like The Snowflake Box, the Pumpkin Truffle Collection, and Herbs and Berries Spring Collection, are always selling out. If you are ever in the Norwalk, CT area, I would highly recommend stopping by — I more than highly recommend it.

This is the official description of the cafe in their own words: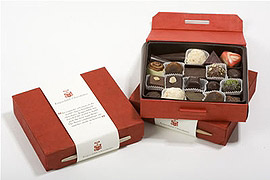 "Chocopologie is a full serve light-fare restaurant incorporating chocolate into every aspect of the experience. Customers enjoy a light fare menu along with a selection of pastries, coffees/teas and, of course, chocolates. The Chocolate/European Bistro encourages customers to linger either enjoying their meal, purchasing pastries or hand made chocolates from the counter or viewing the full time pastry chef/baker creating on-site confections for both sale and as part of the restaurant. Chocolate is featured through out the menu as well as in the merchandise on display. To complete the chocolate experience, customers can purchase a variety of hand made, award wining artisanal products from truffles, sauces, bars and the classic signature chocolate box."