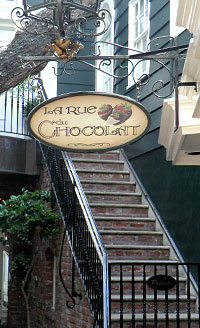 SIMÓN COLL
Many years ago, I subscribed to a magazine (no longer in existence) called Chocolatier. While it's been a long time, I remember reading the chocolate traveler section which featured a piece about Spain in which they described something called "drinking chocolate." I learned then, that drinking chocolate is similar to what we Americans know as hot chocolate (or hot cocoa) but it is served in small cups and is so rich and thick that you can stand a spoon in it. I was intrigued to say the least. Fast forward to a mere three or four years ago when my Spanish tutor, a frequent visitor to Espana, re-introduced me to drinking chocolate once again, describing it in detail, how one could walk into most bars and cafes in Barcelona and simply order a "chocolate" and you would receive this little cup of heaven.
Last month, while visiting Laguna Beach, my favorite place in Southern California, I stopped into the very charming chocolate shop, Rue du Chocolat in a beautiful courtyard off of South Coast Highway. The little shop is a feast for the eyes as well as for the taste buds. I noticed a display of chocolate bars and asked the salesperson about the extra thick chocolate bar with the wrapper that said in Spanish "Des de 1840, Simón Coll, Xocolaters." "Xocolata a la pedra." Which means, in the old Mayan dialect (where chocolate originated), loosely translated, block of chocolate, by Simón Coll, Chocolatier since 1849. The girl behind the counter explained that the way to eat/drink this chocolate was to break off about a third of the bar and add it a cup of hot, steamed milk; stirring until melted.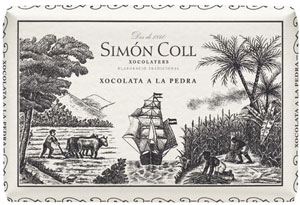 You can find Simón Coll products at the Simón Coll shop, located in Saint Sadumi d'Anoia's town center in Barcelona, Spain. There, they manufacture their unique artisan chocolates for direct, over the counter sale. Visit them at www.simoncoll.com.