Chocolate Life
Recchiuti Confections

Recchiuti Confections, an artisan company in San Francisco, is on a mission to introduce people to real chocolate and to share with them what it is meant to be. "One bite of these handcrafted morsels will change the way you think about chocolate forever." Classic fine chocolates along with some unexpected twists like the signature burnt caramel chocolates or tarragon grapefruit. The Paul Madonna collection features chocolates painted with San Francisco life by the acclaimed artist.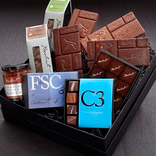 In 1997, after years in the test kitchen, Michael was ready to bring his creations to a larger audience and to introduce Americans to real chocolate. With his wife, Jacky, he founded Recchiuti Confections. Their idea: when you introduce people to truly exquisite chocolates they will be won over instantly and forever. Then, as now, he achieved those exquisite chocolates by painstakingly selecting each ingredient that would go into the final confection. He'd visit the San Francisco farmers' market for bundles of fresh lavender, tarragon and lemon verbena, which he'd carefully dry for use in his signature infusions. He made frequent trips to local chocolate manufacturers, trying their latest offerings and deciding if it had the right texture, color and acidity for a new blend he was working on. And he'd meticulously see to each step that turned those fine ingredients into finer confections, using traditional European techniques and equipment.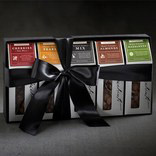 But taste and technique only tell part of the story. Michael's life is filled with art, music and lots of friends, so the look of his chocolates act as a show and tell of his favorite things. Some feature drawings, etchings and paintings from his favorite San Francisco artists, while others are adorned with Japanese block prints.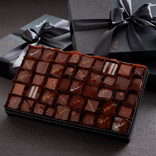 These true works of art can be purchased at The Ferry Building Marketplace or at The Little Nib. Both in San Francisco.
If you live anywhere near there, lucky you!