Mignon Chocolate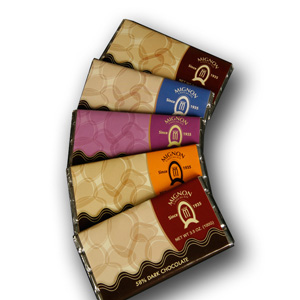 I am a big fan of spicy chocolate. And as you know from these pages, I have tried almost every chocolate available for sale in the Los Angeles area and many from other cities and countries. But one Sunday afternoon, while cruising around Old Towne Pasadena, I stumbled into Mignon Chocolate-established in 1935 (they must be doing something right… I know I think so.) Whenever I visit a chocolatier, I usually choose the one or two pieces that "look" most appealing. But secretly, I'm searching for the spicy chocolate.
At Mignon, I found the Cuban Mojito. How incredible does that sound? Dark Chocolate Shell filled with Cuban Mojito Dark Chocolate Ganache. Wow. They also make the Chili Pepper Chocolate-Dark Chocolate Shell filled with Capsicum Pepper Dark Chocolate Ganache. So delicious.
I used to "force" myself to buy only dark chocolate in an effort to be more healthful until I realized that there is more flavor in dark chocolate. Now, except in rare instances, I ONLY buy dark chocolate. It tastes so much richer!
Mignon also makes a blueberry, a ginger/sea salt, caramelo, bourbon/whiskey, and many more flavors. They also make chocolates bars, they sell/rent chocolate fountains, provide chocolates for the Oscars, etc.
I usually go to a chocolatier's website to discover their "story" so I can share it with you. Had I know Mignon didn't publish their story, I would've asked them while I was there. So it will remain a mystery. But take it from me, Mignon Chocolate is an adorable, colorful, inviting little store with something (chocolate) for everyone. It's definitely worth stopping in. Or check them out at www.MignonChocolate.com
These guys are the real deal.
Visit one of their stores in the L.A. area:
GLENDALE, CA
Mignon Chocolate & Coffee Lounge
315 N. Verdugo Rd
Glendale, CA 91206
818-549-9600
PASADENA, CA
Mignon Chocolate Boutique
6 East Holly Street
Pasadena, CA 91103 (closed Mondays)
626-796-7100