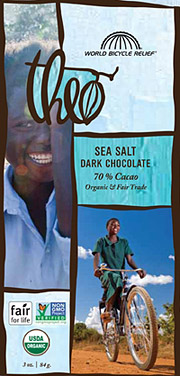 THEO
I like the Theo tagline. It says "…because chocolate grows on trees." Yes, I suppose it does. Would that I could go out into the backyard and pick a bar off the tree but for now, anyway, I'll settle for buying one of their terrific chocolate bars at Whole Foods.
Just back from a trip to Seattle, I wanted to feature one of Seattle's local sons… Theo organic chocolate. I love that Theo is organic because cocoa crops are typically a heavily sprayed crop.
Here is all you need to know about Theo-in their own words:
Theo Chocolate is Proud to be the First Organic, Fair Trade, Bean-To-Bar Chocolate Factory in the United States
At Theo Chocolate, we are changing the definition of "quality" by uniting creative excellence that results in deliciously award-winning chocolate with our unwavering commitment to changing the way the cocoa industry conducts business. At Theo, we believe there is no luxury in products that benefit us today, while jeopardizing future generations ability to meet their needs. When you taste our chocolate you will experience our passion and integrity in every luscious bite. We promise, there is something for everyone from the adventurous "foodie", to those seeking the simple comfort of a delectably creamy milk chocolate bar.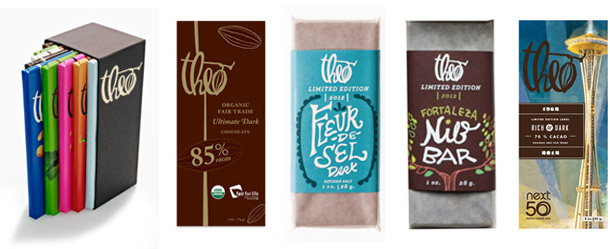 We follow our passion for excellence to bring you chocolate that will delight your palate, ignite your imagination and inspire you to think and act sustainably! Be a part of our movement to save our planet and its capacity to nurture and sustain all living things. We can't do it without you!
THEO CHOCOLATE: BECAUSE CHOCOLATE GROWS ON TREES