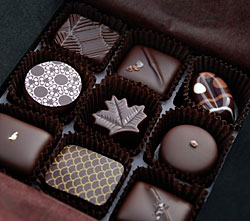 CADEAUX CHOCOLATES
Is it possible that something could taste so good that it could make you cry? Visit the Cadeaux Chocolates website and you might cry just looking at it. These chocolates are beautiful-real, true works of art I'd say. Although most of the Cadeaux Chocolates sold in retail stores are in the Seattle area, there is an option to purchase them on the website-thank God.
Owner and Chocolatier of Cadeaux Chocolates, Janet Shimada, is inspired by the European traditions of confection making. She handcrafts each one of her chocolates and her goal is to produce ganaches and caramels which are rich and flavorful, with appealing textures. She uses fresh and all-natural ingredients in all her confections. Working with chocolate is a passion she enjoys sharing with others. She named her company "Cadeaux" (meaning "gifts") for all the many gifts in life chocolate can bring.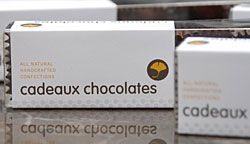 Made in Seattle, Cadeaux Chocolates feature several different gift Boxes, and assorted 5-piece boxes, adorably packaged, and include selections like Fleur de Sel Caramel, honey caramel, coffee caramel and Bittersweet Espresso and others.
And you thought Seattle's Best referred to coffee!