JER'S CHOCOLATES, SOLANA BEACH, CA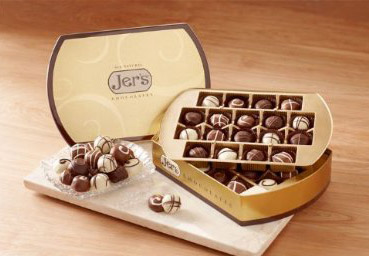 It's unusual for me to recommend a chocolate I haven't tried. In fact, it's never happened before. But, I am confidently recommending Jer's Chocolates based on a radio interview I heard last week with the company's founder, Jerry Swain better known as "Jer." After all, how can you go wrong when you combine chocolate and peanut butter? Which is how Jer's got started. Messing around in his parent's kitchen Jer found himself up to his eyeballs in chocolate and his own brand of natural peanut butter creating his famous "balls." He made them as gifts for friends and family and soon enough, Jer's was born.
In listening to the radio spot I heard, I was impressed that this young man, a recent UC Riverside grad at the time, had a conversation with his dad who impressed upon him, the importance of doing what he loved to do. At the time, Jer wasn't sure what that was but he knew he wanted to be an entrepreneur of some sort (I firmly believe that being an entrepreneur is in one's blood.) His father asked him if he would be OK with failing? I love that question! Because we all fail at something sometime and to be able to persevere with a can-do attitude in the face of failure, that's what being an entrepreneur is all about to me-something near and dear to my heart.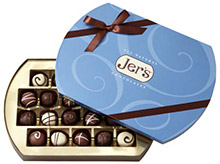 Jerry is now 47 years and professes to eat chocolate every day of his life… like someone I know… yet every picture of him shows a slim, fit, and very healthy looking guy. Of course, we don't know what he looks like on the inside but the outside, usually leaves clues. Just goes to show you… a piece of chocolate every day is not going to kill anyone. The trick is, to just eat one. The chocolates at Jer's are still made by hand in small batches with the finest ingredients (no trans fats or hydrogenated oils.)
Another thing that struck me in the radio interview I heard is that Jerry is committed several charitable organizations. He has been motivated to donate to charity for since the inception of Jer's Chocolates and credits his father for setting an example of giving to others that Jerry has always wanted to emulate.
Jer's Chocolates became such a huge hit, that the San Diego native can proudly boast of his own Jer's Chocolates shop right inside the San Diego Airport. You go Jer! Better still, Jer's can found in Costco stores. Yes, Costco. Welcome to the big time, dude.
You can find Jer's Chocolates in the Solana Beach area of San Diego, CA. Their store is located at:
437 S. Highway 101, Suite 105
Solana Beach, CA 92075
Phone: 800-540-7265.
I have a business meeting this weekend in San Diego. But if I seem to have disappeared over the course of the weekend, you know where to find me. www.jers.com