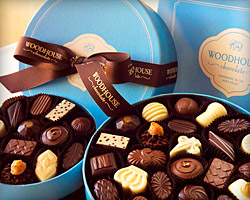 WOODHOUSE CHOCOLATES OF NAPA VALLEY
February. Valentine's Day. Chocolate. There's just a natural flow to these three. Woodhouse Chocolate could easily be the fourth element. What works of art these are! During numerous trips to Europe that in essence, spoiled them; the Anderson family of Northern California, began craving chocolates that they couldn't find in the United States. So, they created their own.
Woodhouse Chocolate is an intimate family business that requires the strengths of each member of the Anderson Family. Tracy Wood Anderson as Chocolatier leads the way in creating the unique flavors and inventive expression of their confections. Assisting her is her mother, Chris Wood who is accomplished in both the fine arts and the culinary arts. Equally helpful are daughters Christina and Caroline who are learning the chocolatier's craft in the kitchen and the art of customer service working in the beautiful Woodhouse store. Last but not least, by any means, is John Anderson, who is the glue that holds it all together and keeps the doors open. Tracy quips that she makes the chocolates, but John does everything else.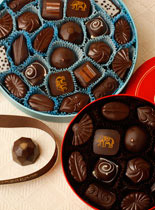 Their collections of boxed chocolates are available in different varieties: mostly milk and dark, predominantly (mostly) dark or wholly (mostly) white-which are gorgeous; even if you're not a fan of white "chocolate." If you are a chocoholic but otherwise lead a healthy life, the dark chocolate would be the one for you. Also available are their caramel collections with Fleur de Sel and other exotic salts (too good to be true!), their chocolate bars: solid, with fruit, or with nuts (in which it appears as if each individual nut has been placed in its own position on the bar), toffee almond butter bars, bars with spices, they are nothing if not exotic.
You must see this company to believe it. Their Valentine's Day collections alone are worth clicking over to their website. But then there's the "Other Delectables" category with truffles, gourmet hot chocolate, and chocolate cigars! If you're serious about your chocolate…and I know you are, you must visit Woodhouse Chocolate online at www.woodhousechocolate.com and/or, sign-up for their newsletter. Can you believe it? A chocolate newsletter?