BRIX CHOCOLATE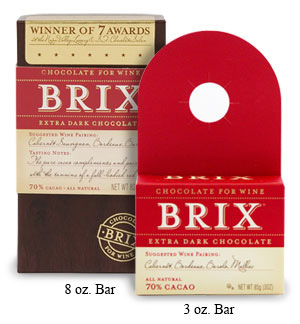 My featured chocolate this month is Brix. Brix chocolate is one of the most unique chocolates I've ever featured in this column. Why? You ask? Because it's the first chocolate that I'm aware of that was created especially to compliment wine. Pairing wine with chocolate is a new one on me. Whoever thought up this idea was brilliant. There's nothing more to be said.
Brix is the coolest thing ever! I bought a box at a hotel gift shop while staying in a resort hotel recently. It is packaged in a brown box with an orange band around it. The band says "Chocolate for Wine." Really?? Then, "Brix: Medium Dark Chocolate." (one of several Brix blends.) Beneath that is a written suggested wine pairings and some "tasting notes." Ha! I am so impressed. Then of course, you break open the box and there it is….literally a brick of chocolate. It looks like you'll need a sledgehammer to break off a piece but when you're desperate for chocolate, finding a sledgehammer is nothing more than an inconvenience. Did I mention how impressed I am? There are even instructions for how to conduct the tasting.
One testimonial quips "It's not a gimmick, the chocolates do harmonize with the wine."

Here's what their website says:
"Dr. Nick Proia, an Ohio pulmonologist, developed Brix when it became obvious to him that no chocolate on the market paired well with wine. Nick and his colleagues would get together monthly to share a few great bottles, and friends would usually bring an appropriate cheese to enjoy with their favorite red. It seemed foolish to Dr. Proia to eat fat-laden cheeses, after dinner, while trying to benefit from the health effects of wines.

Instead, Dr. Proia decided to try out pairing dark chocolate and wine, and after trying all different varieties and "strengths", he could find no happy medium. Either the chocolate was too much like eating candy, or it was so bitter and complex that it dominated the wine.

After a good deal of trial and error, Dr. Proia crafted the four blends of what would later be called Brix – the first chocolate specifically blended to compliment wine. At the root of Brix is single origin Ghanaian chocolate, known for its unique red fruit tones, mixed with the highest quality confectionery chocolate. The result is a blend so pure in flavor that it actually enhances those nuances found in great wines, without confusing the palate."