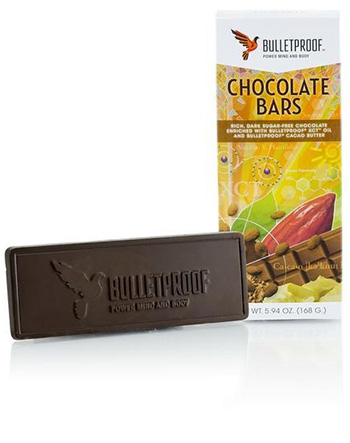 BULLETPROOF CHOCOLATE BARS
Dave Asprey of Bulletproof fame, has come up with a chocolate bar! So how has Dave upgraded this close friend of mine while managing to keep it sugar free!?
See what he has to say below and learn something new. I did. (And these have the taste to back it up his claims!):
It's no secret that chocolate and coffee share many of the same amazing performance-boosting benefits…
From potent antioxidants…
Chocolate is one of the world's most Bulletproof foods… BUT…just like coffee, chocolate can be a double-edged sword. Eat the right chocolate, and it will fuel you with clean-burning energy for hours. Bite into the wrong bar? And it can sabotage you with everything from headaches to joint pain.
Why the Jekyll and Hyde effect? Sadly, chocolate also shares the same mold toxin contamination that plagues most coffee. In fact, the farming and processing techniques behind most of the chocolate on store shelves leave it even MORE vulnerable to mold (one study found proven carcinogen Ochratoxin A in 98% of chocolate samples tested!). That means every time you reach for a chocolate bar hoping for a quick lift, you've got about even odds of either feeling Bulletproof… or blah.
Yes, Europe has higher mold standards for both coffee and chocolate – so you can improve your chances by picking a European bar that's at least 85% "dark. "Yet in my experience… about one time in five, you'll still end up with a "dirty" bar. And because you can't see or smell these toxins – only feel their effects once it's too late, it can feel like you're playing chocolate roulette.
After years of picking the short straw, even with the 'finest' high-quality chocolate available… I knew that just like coffee, there was only one way to ensure a supply of chocolate that would make you feel Bulletproof every single time:
First, it meant going straight to the source and scouring South America's chocolate farms for contamination-free cacao beans that could meet the most rigorous Bulletproof testing standards...
Then, with these clean cacao beans in hand, there was still one crucial challenge: Making the world's cleanest cacao into a rich, delicious chocolate BAR you can take with you anywhere.
And after months of lab testing (and taste-testing)… I'm excited to finally introduce Bulletproof® Chocolate Bars made with 100% clean ingredients, including…
These bars come 3 to a box, and they'll last up to a year without any refrigeration so you carry them anywhere – into a meeting or onto a plane – to give you a Bulletproof meal's worth of energy and focus on-demand.
Stay Bulletproof,
Dave Asprey
P.S. The taste of our new Bulletproof Chocolate Bars is similar to a typical 70%+ chocolate – so if you like "dark" chocolate, you'll love the flavor.