MADÉCASSE MADAGASCAR CHOCOLATE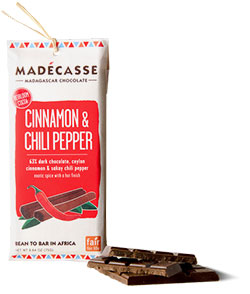 Retail buyers are hired for a reason…they are good at picking out things their customers will enjoy. Well, that's the theory anyway.
So, when I see that the buyers for Whole Foods have selected a new chocolate bar (and believe me, I always notice), I believe it's going to be good before I even buy the first sample bar. They have so many chocolate bars that a new one simply must have something very unique to offer or why bother?
The new kid on the block this time is called Madagascar's Hottest Secret-Cinnamon and Sakay (63% cocoa, cinnamon & sakay pepper.) My first question, of course, is what is sakay pepper? I admit-I had to look it up. "Malagasy cuisine encompasses the many diverse culinary traditions of the Indian Ocean island of Madagascar. Foods eaten in Madagascar reflect the influence of Southeast Asian, African, Indian, Chinese and European migrants that have settled on the island since it was first populated by seafarers from Borneo between 100 CE and 500 CE…." Well that wasn't very helpful-thanks for nothing Wikipedia. From what I could gather (elsewhere on the internet), sakay, is a chili pepper grown in this region and now added to this chocolate bar made by Madecasse. There is a small box on the back of the wrapper that says "sakay" is the hottest pepper on (the African island of) Madagascar. It's found in almost every home and restaurant on the island.
I don't know about you but I can almost feel the gentle island breeze that carries the scent of vanilla, Ceylon cinnamon, and sakay pepper across the island. Whoa! This is exotic stuff!

There are 3 out of 4 little "bubbles" colored in on the front of the wrapper following the word "intensity:" They weren't kidding. This is HOT chocolate. If you like your chocolate hot (as in spicy-and I do), you will love this; I guarantee it. It IS intense! And delicious! My only complaint is I would've liked it with just a touch less sugar. I really do prefer my chocolate with at least 72 percent cocoa liquor both for health reasons but also for flavor. But this bar is so unique, I can hardly fault it.
Other flavors include: Toasted Coconut, Winter Spice, Peppermint, 80% Cocoa, and more! Check them all out at www.madecasse.com.