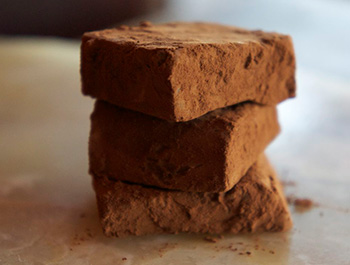 CHOCOLATE MAYA
When I was a kid, even a big kid (AKA adult), I had little use for dark chocolate. Maybe it didn't satisfy my sugar addiction? I'm not quite sure. But as I got older, I began to crave dark chocolate-and not just because I "got healthy." I came to learn (and taste) that dark chocolate, in addition to being much healthier due to its relatively low sugar content, flavonoids and polyphenols, just tasted better-less wax-like, smoother, less gritty, more like what my expectations of what chocolate should taste like had become.
I've come to appreciate the art of chocolate in addition to the taste. I'm not even a fan a swirling chocolate fountains as I feel that such a quantity of swirling chocolate couldn't possibly be high enough quality for my now cultured palate. Tisk tisk.
Business has now taken me about a couple of hours north of Los Angeles once or twice a month to Santa Barbara, and the home of Chocolate Maya. If you're going to call your store Chocolate Maya, you have a lot to live up to as the Mayans were responsible for bringing the precious bean to this continent.

I found Chocolate Maya to be a fabulous, magical place and interestingly, Maya refers to a woman; not the culture.
Here is the story of Santa Barbara's treasure: Chocolate Maya:
As an active child growing up in Geneva, Switzerland, Maya Schoop-Rutten lived by a beautiful lake near a storybook forest where she biked, built stick houses, fished, sledded or skied, depending on the weather.
Chocolate was a constant in her daily life. Maya says, "In Europe chocolate is part of our diet. I ate chocolate with my breakfast every day and grew strong bones because of it." She'd go with her mother to the butcher, the fromagerie, the wine shop, and finally the chocolaterie to taste and choose chocolate for eating after dinner.
In Maya's home the chocolate was kept in a large beautiful pine green armorie, hand-decorated with delicate flowers painted by her mother. Two of the shelves were reserved for chocolate. "Every night after dinner we would open the magic door and choose some chocolates," says Maya.
Today that green armoire sits in Maya's living room in Santa Barbara and Maya's passion for high quality chocolate remains strong and contagious. It was her hunger for good quality chocolate that gave her the inspiration to open Chocolate Maya.
Maya missed European chocolate so much that every year she would go to Europe and fill her suitcase with chocolate to bring back to eat and share with her friends. Finally she realized the suitcase wasn't enough, she wanted to share this wonderful food with everybody! At the time she owned a small breakfast and lunch restaurant called the Comeback Café. She sold the Comeback Café and opened Chocolate Maya in 2007.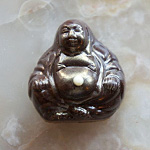 Maya says, "Chocolate is a delicate confection that needs to be handled with a lot love and care. Right after opening the shop, I understood that I needed to learn and teach others about the whole process of making chocolate-where the beans are grown, who grows them, and how they are processed into chocolate."
In addition to visiting cacao bean plantations to meet the growers, Maya has gone to Switzerland to learn to make her own exquisitely delicious truffles and chocolate dipped confections. She says, "The secret is to have a high quality chocolate in perfect balance with mint, chile, lavender, or whatever you choose to pair with it. Top quality ingredients with no preservatives or artificial additives."
Maya is proud to say that all the chocolate she sells is ethically grown and produced and made using the purest high quality ingredients, whether they are made in France, Italy, Belgium, Spain, South America, Switzerland, other parts of the U.S., or right here in Santa Barbara. For her locally-made chocolates she looks for local seasonal ingredients such as Fat Uncle Farm almonds, Santa Barbara pistachios, and locally grown herbs.
Maya invites you to drop in, taste some chocolate, and feel free to ask her lots of questions.