KALLARI CHOCOLATES OF NAPA VALLEY

Kallari is the only farmers' cooperative in the world that harvests, markets and enjoys all profits from its own line of organic chocolate. Kallari is produced by a coalition of 850 indigenous Kichwa families in the Napo region of the Ecuadorian Amazon. The chocolate is intensely flavorful and delicate, with an extended finish and hints of fruit. Unlike other artisanal dark chocolates, which compose a taste profile by blending multiple-source cacaos, Kallari acquires its complex, nuanced flavor through the harvesting of endemic varietals found on small family-owned Kichwa farms. Kallari's fresh unadulterated taste and its absence of bitterness derive from this field blending of single-source noble varietal beans, primarily the rare and much esteemed Cacao Nacional, with hints of Criollo, Trinitario, Venezuelan, and Blonde Cacao.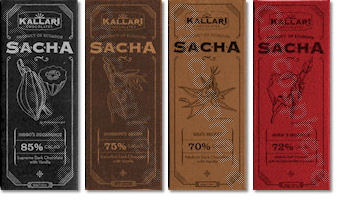 Purchase Kallari Chocolate online at www.Chocoshere.com or at most Whole Foods Markets. Kallari bars are available in 70%, 75%, 85% cocoa. Check out their Sacha collection with gorgeous old-time wrapper designed bars in: "Diego's Chocolate" - 85%, "Roberto's Choice" - 75%, "Sisa's Secret" - 70%, and "Nina's Nuance" - 72%.