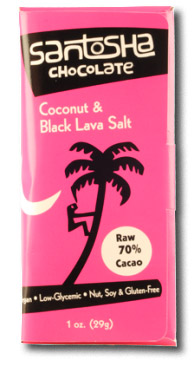 Santosha Chocolate
What kind of chocolate is USDA Certified Organic and is gluten, dairy, soy, and nut free, has only 5 grams of sugar in the entire bar and ships for freeeeeeeee. What on earth is it? It's called Santosha.
What exactly does Santosha mean?:


1. Contentment, not requiring more than you have to achieve contentment.
2. Having peace with what is, in this moment.
I understand the need to highlight the spiritual nature of this chocolate (we all hold chocolate in such high regard as to assign it spiritual properties) but organic, gluten-free, dairy, soy, and nut free? Wow. This is really is a spiritual experience.
I first tried one of their bars (Coconut & Black Lava Salt) at Erewhon Natural Foods Market-and it was incredible. This is some strong tasting chocolate! Never to be compared with the grainy, waxy, flavorless taste of more pedestrian brands (I call them over-the-counter chocolate), this one has flavor that just explodes on you; a very strong and somewhat unusual flavor. Other flavors include: Single Origin Peru (sounds exotic), Rhodiola and Hawaiian Red Salt (just what the doctor ordered; adaptogenic chocolate), Gogi Berry, Ginger, and Ashwaganda Root (more adaptogens-these people have it down!!), Citrus and Maca, and Cinnamon, Cayenne & Maca (I like my chocolate spicy so definitely my next bar.)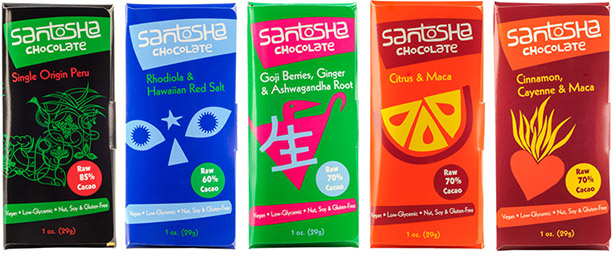 Compared with other chocolates I reviewed, this chocolate comes alive! I think you should give it try. If you live in the Los Angeles or Calabasas, CA areas, stop by Erewhon Natural Foods Markets and try one. If you don't, there is always www.Santosha.com. Here is a little bit about the Santosha story:
Our founder Don Rowe began preparing and experiencing the benefits of raw foods for health, performance and enjoyment in 1993. After a 7 year stay in Spain, Don returned to the US only to discover a shortage of high-quality, raw chocolate. Immediately, as a labor of love, he began crafting raw chocolate made with the finest, minimally-processed ingredients. By 2008, the local farmer's markets in Asheville, NC could not get enough of Don's raw chocolate! With an exciting vision and in response to the popularity of the chocolate, Raw Shakti Chocolate LLC was formed in 2011. In 2013, with over 200 retailers in the US and abroad, Raw Shakti Chocolate was reborn as Santosha Chocolate. At Santosha Chocolate, we are committed to crafting a sensual, healthy indulgence made with care for people and the environment, from bean to bar.