STAFFORD'S CHOCOLATES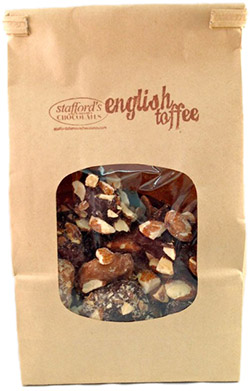 I love the Santa Ynez Valley in the Santa Barbara area North of L.A. So beautiful with sprawling ranches, wineries and the charming Dutch town of Solvang. One of the things I to do when I go up there (besides shop the boutiques) is to look for the little "hidden gems." Whether it be a shoe store, one of probably 100 bakeries, a café, or an Ostrichland. Yes, Ostrichland, where one can go and feed a bucket of ostrich feed to a flock of ostriches (I'm not making that up), there are a lot of other fun things to do.
Of course my chocolate radar is always on which is how I stumbled upon Stafford's Chocolates. A tiny cottage, and I mean tiny (there's room for a miniature desk with a chair, an armoire, and not much else), and it sports a really tall ceiling. They also sell jewelry and a few gift items but what they have in the way of chocolate….is pretty amazing.
I'm trying to narrow down my favorites. I'd start with the Dark Chocolate Caramels with Sea Salt. Ah! So good. But then the Exotic Sea Salt Caramels? OMG. Let me tell you Himalayan Sea Salt, Spicy Mexican Caramels…these are also amazing. This combo features both milk and dark chocolate. I'm also a huge English Toffee fan though I did not try theirs. They list it on their website's "most popular" page so I would imagine it's pretty good.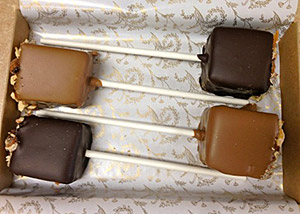 I am saving the best for last...their Ooey Gooey Bars are pretty much heaven on a stick. They resemble giant lollipops with an amazing combination of homemade marshmallow, all natural peanut butter, and caramel, coated in milk or dark chocolate, and then topped with toasted almonds. Bring a kid with you because one look at those perfectly formed squares and you'll have bribing materials for weeks.
There are also the nut and chew assortments, truffles, caramel apples and charmingly packaged chocolate bars. Being in the middle of wine country, they even feature a red wine-infused option. You would be impressed.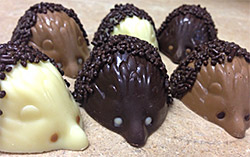 Stafford isn't a big name in the world of chocolate but don't let that fool you. If you're unable to board a plane, fly into LAX and then drive north for 2 hours (though it would be worth it), you can order online at www.staffordsfamouschocolates.com. They also have a store in Porterville, CA, just outside the Fresno area.
I always enjoy letting the proprietors speak for themselves so here is what they say about themselves:
Stafford's Famous Chocolates presents a tempting array of luscious confections sure to please anyone's palate. Our mouth-watering truffles, caramels, English toffees, creams, and countless delectable chocolates are handmade daily in our kitchen. Only the freshest and finest ingredients are used to create all of our chocolates. Our nuts are locally grown, and the fruits we use are also grown in the San Joaquin Valley. Stafford's Famous Chocolates is a family owned business with two locations. Our original store is in the city of Porterville in the Central Valley of California and our newest store is in Los Olivos, California located on the central coast in the Santa Ynez wine country. If you're ever in the neighborhood, we invite you to stop by for a visit and a free sample!