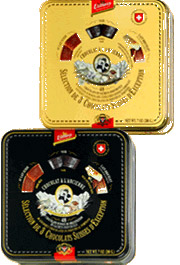 VILLARS CHOCOLATE
Chocolate of the Month: Villars Old Fashioned Chocolate Assortment. An assortment of three types of old fashioned chocolate presented in an elegant tin which pays tribute to Fribourg town and its different coat of arms.
This exceptional chocolate traces its origins back to an authentic, traditional recipe of Villars master chocolate makers. It combines the best cocoa beans, pure Swiss milk and candied wafer chips (traditional wafer recipe) with time honored, secret manufacturing processes. Three sorts combined in one presentation box: Milk chocolate, Milk chocolate with caramelized wafer chips and Dark chocolate. Each chocolate is in the shape of a traditional cream tub and hermetically wrapped.
Villars Chocolate: Authentic Swiss chocolate, made exclusively with Swiss milk.