Eclipse Chocolate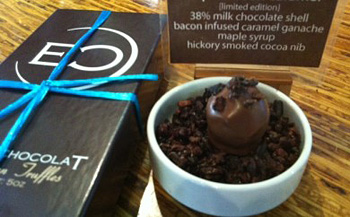 Been to San Diego lately? Well, I have a reason for you to go. Eclipse Chocolates. I know people take chocolate tours of a city when they visit but some day when I'm rich, I'd like to take a chocolate tour of the country, then maybe, the world! Though that would be exhausting and highly fattening, I think I'm getting carried away. So for now, let's just stick with Eclipse Chocolates. The Artisan Chocolate Bars alone are worth the trip.
When you visit their website, the first thing you'll notice is their promotion for threeway chocolate-that's a clever play as I'm sure you'd agree but the threeways are: chocolate, cheese, and craft beer. While not a beer drinker, I can certainly see how enticing this pairing can be. Personally, I would substitute bread or wine for the beer but that's just me. They have a café in addition to their chocolatier and apparently, it's award winning as they have indicated. I did not get a chance to eat in their café but let me tell you, the food just looks amazing!
Another promotion they feature is called "Sweet and Savory Brunch-eclectic cuisine featuring small plates infused with chocolate, vanilla and caramel sauce." Are you kidding me? I'm putting gas in the car right now! Just hearing about these events, remembering the chocolates they make, and the many amazing testimonials on the home page of their site begs me to jump in the car and return to this wonderful find down San Diego way 2145 Fern St. in San Diego to be exact.

Here's what they are telling us about their place:
We offer counter service for treats including our savory panini, soups, salads, pastries, & confections at all hours. Also available is a complete espresso, tea, & cocktail menu including a selection of West Coast wines & Southern California craft beer on tap.
We serve our Sweet & Savory Brunch every day from 9am-2pm. Guests may create their own dining experience by choosing any three plates for $16. The menu changes seasonally and features many different plates from which to choose including vegan & gluten-free options.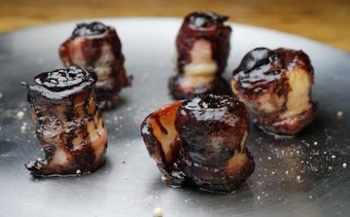 Each month, we offer an exclusive multi-course tasting dinner called EC:Supperclub. For $35, guests may enjoy a full service three course tasting dinner that features chocolate, vanilla bean, or caramel in each plating. Dinners are typically scheduled on Fridays & Saturdays with seatings at 5, 6.30, and 8pm, & each features a thematic menu appropriate for carnivores & vegetarians. Also available is a thematic appetizer sized for two, for an additional $12, as well as wine or beer pairings. These events typically sell out; RSVP required, 619.578.2984.
Also featured monthly is our brewery tasting series we call a Chocolate Threeway. For $20, guests can join Will & a local brewmaster for an hour-long guided tasting complete with three exotic truffles paired with three artisan cheeses paired with three craft beers. Hosted on Thursdays, these events typically sell out. Check out out Special Events Calendar to see the complete listing of upcoming tastings.
For all the first-hand information regarding the announcement of our special tastings & dining events, please join our email list. We never share client contact information & typically send announcements three times a month.