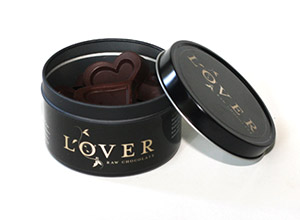 LOVER RAW CHOCOLATE
So here's the commercial (picture a lean, native South American man dressed in khakis and a straw hat harvesting cocoa beans as the narrator speaks): "High atop a volcano in Ecuador the world's finest cacao beans grow free in the rich, black soil. These wild beans are collected, cold pressed, and fused with 100% raw ingredients from other ancient civilizations…."
Don't you love the drama?
But seriously, Heirloom. Certified organic. Raw. Superfoods. Fairly traded. Vegan. GMO Free. Gluten free. Low Glycemic. These are the features of Lover Raw Chocolate. And as you know…when it comes to chocolate, the darker the better because the less sugar, the better. I know I don't always promote chocolate that emphasizes the health benefits that I endorse but I'm not a hypocrite! (my feeling is that everyone deserves to splurge every now and then.)
But I am thrilled when I come across a chocolate I can feature that meets the stringent standards that I really prefer to adhere to!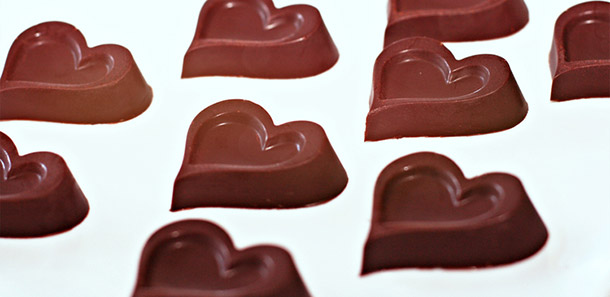 I recently attended an event where samples were given of Lover Raw Chocolate. OMG ! (I know, had to say it), it was amazing. I had the maca filled heart and it was truly delicious.
Here is the information from their website:
Abundant in nutrients, vitamins & antioxidants, all of LOVER's ingredients are superfoods - ethically sourced from diverse cultures around the world.
LOVER is a chocolate that is not only exquisite but healthy.

LOVER is organic, free from dairy, low glycemic and 100% Raw.

All the ingredients in LOVER Raw Chocolate are superfoods. Superfoods are natural plant foods that are exceptionally high in nutrition and therefore provide the body with increased energy and balance.

Superfoods have super-charged density and vitality because of all the vitamins, minerals, amino acids, enzymes, fatty acids and more packed into them. They are medicinal, hence transform our health through the balance of nutrients they contain.
Lover Chocolate is made from 75% Heirloom Ecuador Arriba Nacional Cacoa, lucuma (a subtropical fruit native to the Andean valleys of Peru with a low glycemic index), sweetened with coconut palm sugar, maca, purple corn extract, almonds, vanilla bean, stevia, and Himalayan sea salt.
If you live in the Los Angeles area, I suggest you find your Lover at Erewhon Natural Foods Market:
Los Angeles:
7660 Beverly Blvd, Los Angeles, CA 90036, USA
(323) 937-0777 (In the dessert fridges by check out !)
OR
Calabasas:
26767 Agoura Rd, Calabasas, CA 91302
(818) 857-3366

For those that don't live in the greater Los Angeles area, please visit: www.loverrawchocolate.com for more information.