Trader Joe's Chocolate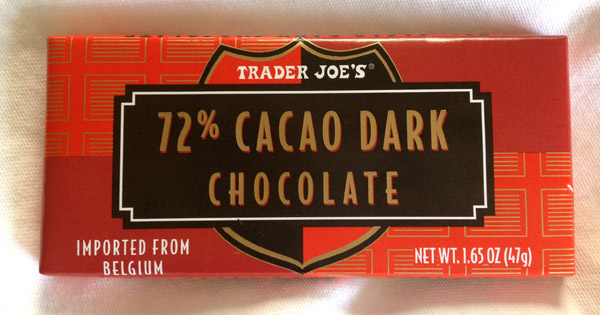 Of all the luxurious, expensive "boutique" chocolates that have graced the pages of Jinifit, why, you may ask, did I choose to feature a Trader Joe's chocolate bar this month?
Because they're that good!
I know that I'm bending the rules a bit with some of my usual selections but the 72% cacao content in these little chocolate bars makes them officially "dark" chocolate and they're amazing! Who knew?
I first discovered them when needed a good quality chocolate to melt and use in a chocolate ganache that went on top of the peanut butter pies I used to make and sell to local restaurants. I couldn't believe how well they held up when compared to much more expensive brands; and the pies received rave reviews.
I definitely consider myself a chocolate connoisseur and believe me when I tell you, I'd challenge a square of most any chocolate I've tasted to compete with Trader Joe's 72% Cacao bars at a few dollars a package (they come in 3 packs.) And for chocolate lovers on a budget, you just can't beat it.
These little bars are made with imported Belgium chocolate-and they taste like it. Break off a square and indulge; you won't be doing much damage-to your diet or your wallet.
Of course, you can find these little gems at your local Trader Joe's market which are thankfully, located across the country.