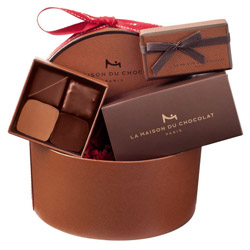 MAISON DU CHOCOLAT
Way back when, when I was first introduced to high-end gourmet chocolate, a friend told me about Maison du chocolat. It was available at the gourmet counter at Saks Fifth Avenue in Beverly Hills-still is, as far as I know. I went, I saw, I indulged-and I have never been the same. O.K., so that's a bit dramatic but it was memorable enough for me think about many years later.
It's been quite some time since I first experienced; yes, experienced these chocolates because they are indeed, an experience. You can literally taste the quality. In fact, you can taste Paris in these chocolates. But guess what? You don't have to travel to France to buy them this time! (it's about time I reviewed a chocolate that you can actually buy in this country.)
As one who is a sucker for packaging, I fell in love with the beautiful, classy, artistic, packaging of these boxes. I would've bought a box just for the packaging if I hadn't already been expecting greatness-and I wasn't disappointed. Their collections are titled with names that sound like upscale comfort food: "Chocolate at Home," "Decadent Treats," "Hatboxes," and the timely "A Christmas in Paris" which makes me want to jump on a plane.
You must check out their website where in addition to the previously mentioned, charming collections where you can make a more classic selection from their "Signature Boxed Chocolates" if you'd like which includes the aptly named "Initiation Gift Box" or the "Tamanaco Gift Box," considered the dark chocolate ganache connoisseur's box and includes: five different origines for five different taste sensations.
No matter which you try, you really shouldn't miss this one. Really. You shouldn't.