Wei of Chocolate
I am often asked to recommend a "healthy" chocolate (since we all know that it actually IS very healthy in small, low sugar quantities) and I have featured many different chocolates on the Jinifit site but, with Wei of Chocolate, I can finally recommend a chocolate that not only was created to be healthy but is as healthy as it is exotic and melt-in-your-mouth delicious. Where else have you ever seen a "wellness" collection of chocolates? You really have to check this company out. This line is special on so many levels.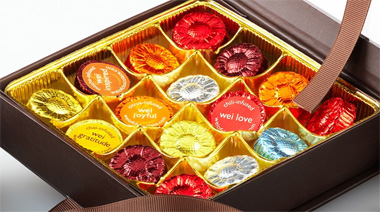 Their incredibly creative concept features chocolate paired with flower essences, "energetic infusions of flowers that work with the body's meridian system to enhance clarity, peace and happiness." Very cool. They have a small mini-brochure that features photos of 6 beautiful flowers that correspond to 6 different flavors of chocolate. You are instructed to choose the flower from the page that most visually appeals to you. Then, you open up the brochure, match it to the number inside to find out which chocolate you "need" most. For example, number 1 on the promo card (which looks like a daisy) is Wei Gratitude (65% cocoa.) It's taste is Chai spice and it's associated "experience" (if you had chosen this one), would be: peacefulness. It even lists the health benefits of Gratitude: adrenal and immune system (support.)
With all my love for the glorious bean, I never thought I'd see the day when chocolate became a "concept." But it did; brought to you by Wei of Chocolate. Wei of Chocolate is based in Phoenix, AZ but it would be more accurate to say it has its origins all around the world.

Creator Lisa Reinhold can better explain the history of her company and how she "came to chocolate via a roundabout route that took her from small-town American roots to Paris to remote areas of Asia." Her story is as fascinating and exotic as her chocolate...
Along the way, she experienced deeply the benefits and joys of meditation, living in a cave, spending months in retreat and studying and practicing the wisdom traditions of Nepal, India and Tibet for 11 years.

Upon her return to the US some years ago, she began searching for a way to bring the East to the West. Finally, after experiencing herb- and spice-infused chocolate that Lotus Wei sister Katie Hess created for tea ceremonies and meditation circles, Wei of Chocolate was born in 2007.

"Chocolate is the perfect vehicle by which to introduce meditation," explains Lisa Reinhardt. "When people taste the wei, they drop all extraneous thought and find themselves nowhere else but fully in the present moment. Our aim is to take something that people already do and elevate it. Introducing intentional blends of organic herbs and spices to beautiful dark chocolate already renowned for its health benefits - what could be better?"

The only thing better is Wei of Chocolate's latest innovation – introducing Lotus Wei's vibrational essences of flowers and gems to chocolate. Flower essences are without scent or flavor; they are energetic infusions, similar to homeopathy, that work on the subtle energetic system of the body through the acupuncture meridians. The results are gentle state-of-mind enhancing effects – more joy, peace, clarity and happiness.

It was natural to create the Wei of Chocolate line as organic, fair trade and vegan dark chocolate.

Designed as a support for a daily practice of loving and caring for ourselves on a physical, emotional and spiritual level, Wei of Chocolate is the perfect finish for a spa treatment, a grounding reward for a yoga session, or simply as a reminder to appreciate and care for ourselves in our too-busy lives.

"I see each chocolate as an opportunity to meet our true nature," Lisa says with a smile.
Visit www.weiofchocolate.com for a directory of locations where you can purchase this magical line of healthy (really!), chocolate.