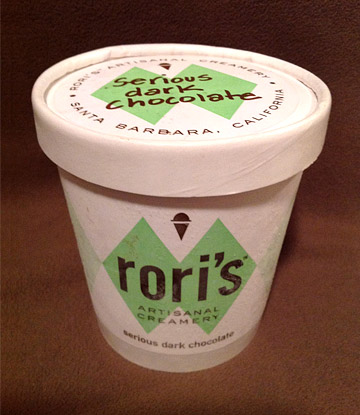 RORI'S ARTISINAL CREAMERY
There's chocolate ice cream and there's chocolate ice cream! Until today, I would've been satisfied with the former and wouldn't have given it a second thought. I don't typically choose ice cream as my indulgence of choice. All that's changed now that I've tried Rori's Artisinal Serious Dark Chocolate (It's 72% cocoa-that's the equivalent of a "regulation," nutritionist approved, square of dark chocolate, only you eat it with a spoon.)
Rori's Artisinal is Santa Barbara's first organic ice cream and butter company. They use the best organic ingredients like Straus Family Creamery's fresh milk, cream and eggs from Marin County, a dairy that takes pride in producing the sweetest milk and cream, which creates a smooth creamy texture for the ice cream. They also use fresh farmer's market fruits and local organic ingredients whenever possible. Their chocolate comes from Sweet Earth Chocolates in San Luis Obispo, a Fair Trade Organic company.
They make their ice cream in small batch production so that it's always fresh-and they make it daily. Other flavors sound as incredible as the Serious Dark Chocolate like: Creamy Vanilla Bean, Stumptown Espresso, NY Strawberry Cheesecake (w/ graham cracker crust garnish), Malted Milk Ball, Salted Caramel, and Lemon Curd (with poppy seed garnish.) The flavors are clear, clean and bold because they don't have time to fade due to long freezing periods.
Locations include: Santa Barbara, CA, Los Angeles, CA, Santa Ynez, CA, Ojai, CA and Gelson's Markets (isn't that convenient for me!)
But there's a little back story to this:
I have the greatest clients! While I am known to my family, friends and clients as a chocolate "person" (fiend, aficionada, chocoholic, fanatic, and other terms have all been used to death), I am usually the one doling out desserts as it all about my job security. Yet this morning, Mrs. Greatest Client, told me all about this wonderful new chocolate ice cream that she'd stumbled upon. Plagued with serious food allergies, she must be very careful about everything she eats. She told me this chocolate ice cream (Rori's) was rich, intense, and unlike any ice cream she had tried before. She added that it was organic, made with only the finest ingredients and said it didn't contain anything that she would react to. Well, she reacted to it alright... to the taste!
"OMG!" was her basic description. She apparently bought several pints of it because she asked Mr. Greatest Client to please run upstairs and grab an "unused" pint for me (I barely protested.) Mr. Greatest Client returned with a pint of Rori's Serious Dark Chocolate ice cream which he had placed in a Ziploc baggie that he had taken a marker to and had drawn a heart on. I have the greatest clients!
...and they were right. This ice cream was so rich, even I wasn't able to finish the pint in one sitting (you have no idea how rare that is.)