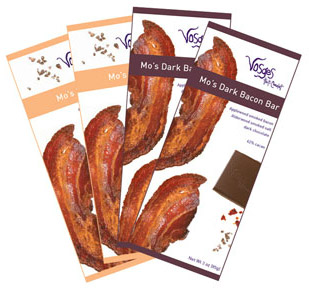 VOSGES HAUT-CHOCOLAT
When Katrina Markoff says "Welcome to the world of experiential chocolate," you don't say "huh?" You get it.
I first discovered Vosges about twelve years ago, when on a trip to Chicago for a visit with my Godmother, I discovered this little high-end chocolatier in the Water Tower Place shopping center on Michigan Ave. I was blown away by choices such as lavender chocolate, and chocolate with wasabi. This type of exotic chocolate was something quite new then. They were small, delicate pieces, with subtle flavoring and oh, so special. Since then, they have expanded their line of exotic chocolates and truffles to include exotic chocolate bars that are now available in Whole Foods and lots of other gourmet locals. At this very moment, I have a Mazipan/chocolate bar and a Mo's Bacon Bar in my refrigerator. I am a total Vosges devotee (especially the bacon bar-is there anything on the planet that doesn't taste good with bacon on it?)

Katrina Markoff, young, thin, pretty, is not the image that comes to mind when you think of exotic chocolate creators. But that is the truth. Katrina has an interesting story…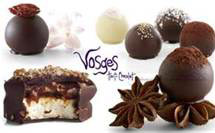 Owner and chocolatier Katrina Markoff, originally trained in Paris at the renowned culinary school Le Cordon Bleu, has enhanced her confectionary artistry through training and stages under some of the world's most revered chefs and in many of the most exotic and honored cuisines on the planet. Beginning in Spain under the direction of Ferran and Alberto Adria at their famed El Bulli restaurant, she draws inspiration from her experiences studying the indigenous cuisines of France, Italy, Thailand, Korea, Vietnam, Singapore, China, Australia and Hawaii.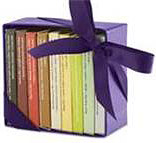 From the kitchen of her Chicago apartment, Katrina has launched a veritable chocolate revolution. She is personally responsible for the conceptualization of her collections, recipe development and vision of Vosges Haut-Chocolat, and with chocolate as her medium, she encourages others to explore the diversity of cultures, artists, traditions and movements. Through her inspiration, sensual and experiential approach, unexpected ingredients and highly sophisticated methods, Katrina inspires and models innovation - taking risks and pushing the boundaries of chocolate conventions.
With each chocolate collection she creates, Katrina opens minds to new ideas and inspires a more non-judgmental and inclusive world.
Wow.