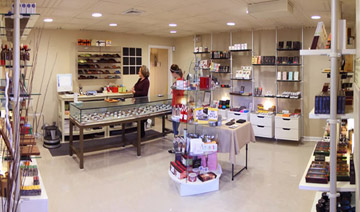 COCOVA
Our nation's capitol is known for many things, but chocolate? Who would've thought? Chocolate, it turns out, is part of American history-and in some ways, is more American than well, apple pie. Not only was the cocoa bean discovered in the Americas and brought to Europe by Christopher Columbus, but early Americans actually ate chocolate on a regular basis-even our founding fathers loved chocolate.
Did you know that Thomas Jefferson was a great fan of "drinking chocolate?" (visit the Simón Coll post on my website chocolate page for more on drinking chocolate.) He is quoted as saying: "The superiority of chocolate, both for health and nourishment, will soon give it the preference over tea and coffee in America which it has in Spain." Who knew?
Many of us will visit our nation's capitol at some point in their lives. So, when you go, make sure your travels take you to Cocova (get it?…Washington, DC…Coco-VA?) I discovered Cocova through my friend Dr. Anna Cabeca, co-host of the Sexy Younger You series that I've been talking about, and an amazing doctor who specializes in "Sexual CPR" (I just LOVE that concept.)

Chocolate and sex-as far as I'm concerned, are nearly impossible to emotionally and physiologically separate. At dinner one evening, I told Anna my thoughts on this and explained how it was possible that a fitness professional could dedicate an entire section of her website to chocolate. That's when she mentioned that her brother was a chocolatier. Needless to say, I was all ears. She introduced me to her brother Robbie Cabeca and I am pleased to feature his store, Cocova here on the pages of Chocolate Life. See the excerpt from the Cocova website below for a "taste" (pun intended) of their incredible offerings.
The Showcase of World Class Chocolate
Cocova is considered among the finest chocolate shops in the world. Why? Because we search for the greatest chocolate makers in the world and offer their most exquisite chocolate products for your enjoyment.
If you are looking for the finest quality Chocolate Bars, Chocolate Truffles, Chocolate Gift Baskets, Chocolate Boxes, White Milk & Dark Chocolates, Fair-trade, Organic Chocolates, Vegan Chocolates or to simply buy a Box of Chocolates, COCOVA is the right place.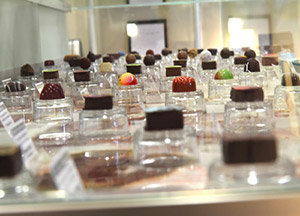 Our mission is to seek out bean-to-bar Chocolate Makers and Chocolatiers who use bean-to-bar chocolate to produce their confections. We possess an intense passion driving us to continuously explore and research distinguished chocolate, their makers, and the history behind them. Our customers depend on our research to help them make educated selections for all their needs.
We encourage you to explore our vast selection of chocolates and gifts. At COCOVA, we go out of our way to bring you the best quality chocolate in the world from the best chocolate makers. We have spent years gathering this exotic chocolate collection together just for you.
Chocolate Varieties from Around the World
COCOVA features over 850 high quality fine chocolate products from over 100 internationally renowned chocolate makers. Our vast selection ranges from luxurious Boxes of Chocolate Truffles to Chocolate Gift Baskets, Chocolate Boxes, Chocolate Bars, White Milk & Dark Chocolates, Fair-trade, Organic Chocolates, and Vegan Chocolates.
We offer a large selection and variety of Certified Fair-Trade and Certified Organic chocolate products which are difficult to find. Additionally, we offer one of the largest selections and varieties of Single Origin and Single Plantation chocolate products.
We also offer a prominent International selection of Chocolate Truffles, Caramels, Bonbons, and other fine confections.

Some of our vendors include: Francois Pralus, Amedei, Domori, Potomac Chocolate, Theo Chocolate, Christopher Elbow, Michel Cluizel, Robert's Chocolates, Divine Chocolate, Dolphin Chocolate, Stephan Bonnat Chocolate, Vestri Chocolate, Askinosi Chocolate, Original Beans, Claudio Corrallo, Felchlin Swiss Chocolate, Artisan Confections, J. Chocolatier, Christopher's Confections and many, many more.
If you are looking for fine chocolate from around the world, you have found it at COCOVA, The Showcase of World Class Chocolate.
Located at: 1904 18th St. NW, Washington, DC 20009. Tel: 202-903-0346
Store hours: Monday - Saturday 12 noon to 8pm; Sunday 12 noon to 5pm